Once again, a state under Tea Party control is trying to destroy unions. First it was Wisconsin, then Ohio, and now Michigan. Conservatives say they support the free market, but they oppose allowing workers to fight for the best compensation they can get. This is a glaring inconsistency, and it begs the question: Why do they hate unions so much?
The answer is simple: Unions are the only ones who fight the class war on our behalf. Without unions, the super-rich and massive corporations would take all the wealth, instead of just almost all. Attacks on unions are a direct attack on the middle class, led by the party that represents the wealthy oligarchs.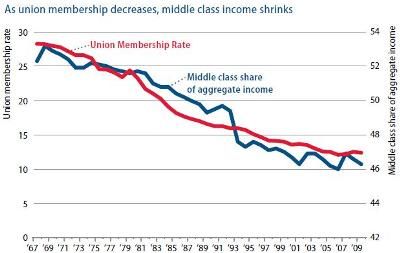 Strong unions and middle-class income gains are closely related. But that's not all unions have done for us. Labor's greatest victories are such a fundamental part of our society that we often take them for granted. We expect 40-hour weeks and 2-day weekends. We expect holidays, vacations, and paid overtime. We expect to receive at least a minimum wage. We expect that our children will go to school, instead of going to work in a factory.
But we should never be lulled into thinking that these hard-fought gains are permanent. In fact, they're constantly under attack. Big business and the rich are hard at work trying to undermine the foundation of the middle class, and they're succeeding handily.
The battle against our unions needs to be seen in the proper context. It's a major front in the class war being waged against us by corporations and wealthy oligarchs. Whether or not you're a union member, you benefit enormously from the work unions do. That makes this an attack on you and your way of life.