UPDATE: Four governors with presidential ambitions and self-inflicted budget shortfalls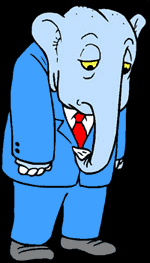 There's some schadenfreude to be sure in the self-inflicted problems some Republican state governments are having with budget shortfalls, but there's also a need to think and fact-check before speaking it aloud. Why start an "we told you so" sort of post with a "maybe not" sort of warning? Because as true as it is that Republicans caused some shortfalls with ill-advised but ideologically correct tax cuts, this is partly fallout from the precipitous decline in oil prices.

Plus it's not fun to think about the problem getting even worse and Republicans taking the opportunity to inflict even more dysfunction on government than they have already. From an AP review of state budgets:

Alaska relies heavily on oil revenue and projects a $3.2 billion budget shortfall for the coming fiscal year. A special legislative session has been called after lawmakers failed to agree on a way to fund the budget, even though the state has plenty of money in reserves to cover the gap.

That's not the case in Illinois, where lawmakers are trying to figure out how to close a $6 billion projected shortfall for the next fiscal year, due largely to the expiration of a temporary tax increase.

Republican Gov. Bruce Rauner, who campaigned against the tax plan, has suggested cuts to health care, local governments and other areas. But lawmakers in the Democratic-led General Assembly say spending cuts alone will not close the gap.

In Kansas, the Republican governor and GOP-dominated Legislature now confront budget deficits after aggressive tax cutting that prompted them to reduce school funding this spring.

Districts across the state have cut staff and programs such as summer school, and at least eight are ending the current school year early to save money.
{ 1 comment }