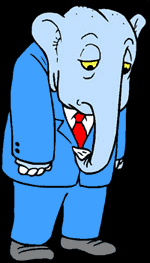 h/t Daily Kos Elections

First district Rep. Tim Walz may be getting lucky, as his hapless opponent from 2014, Jim Hagedorn, is running again. Well, maybe not completely hapless, since he did beat a party endorsee in the primary, Aaron Miller. The endorsee worked at a biotech company but denied evolution is real, and they thought this was the stronger candidate. Primary voters preferred to go with the guy saying stupid misogynist stuff in his blog.

State Rep. Tony Cornish, R-NRA, announced he plans to seek reelection to his state house seat rather than challenging Walz. Given that he didn't even have a DFL opponent in 2014, hard to blame him going for the sure seat. Come on DFLers of HD23B, make him at least campaign a bit in 2016.

Comment below fold.


Comments

From Mac Hall: This is sad news for the American democratic elections.

Let's not look at this as a Republican versus Democrat thing but instead can any incumbent be beat ?

Let's ignore Hagedorn for the moment and focus on Tony Cornish …. and why he said he is not running — money and not wanting to give up power. Media reports were that Cornish was making the necessary "groundwork evaluation" and determined that he would have to ramp up his fundraising. What does that say about the RNCC that they do not think that a "qualified" candidate can beat Tim Walz (yeah, I know of his gaybashing and gun-loving but doesn't that just make him more appealable to the First District voters who voted for Jeff Johnson (remember Johnson won the First District) and Dan Severson (who trounced Simon) ? Does that says that Walz is a reliable DINO that the House GOP can work with him or they have other districts that they need to defend.

The power of incumbency can help "spin" an image (just look at John Kline versus his roll call votes) but it's the spigot of cash that moves to incumbents. What did "donors" provide to Walz last time ($1.4 million) … Hagedorn was just on the ballot as the incumbent-alternative … he got no help from the RNCC.

Look at the Kline-Obermueller or Paulsen-Sund contests, the incumbents war chests meant that they could "spin" whatever "facts" they wanted.

The new American political election season has moved from November to the primary … look at the 2014 elections where four incumbents lost their primaries –John Tierney (D) joined three Republicans House Majority Leader Eric Cantor, Ralph Hall of Texas and Kerry Bentivolio of Michigan — all primary challengers are now in the House … and now will begin long careers.

What was the reaction from Tim Walz's camp … this appeal that did not even mention his challenger's name.

It's official. My first opponent – I know he won't be my last – just announced he's running against me in the 2016 election.

My opponent specifically said he was jumping in this early to get a head start on the campaign, so we have to beat him to the punch.

I need your support right now. Can you support my campaign with $25 today? Your help was critical in 2014 and we need it again.

Thank you for all of your support.