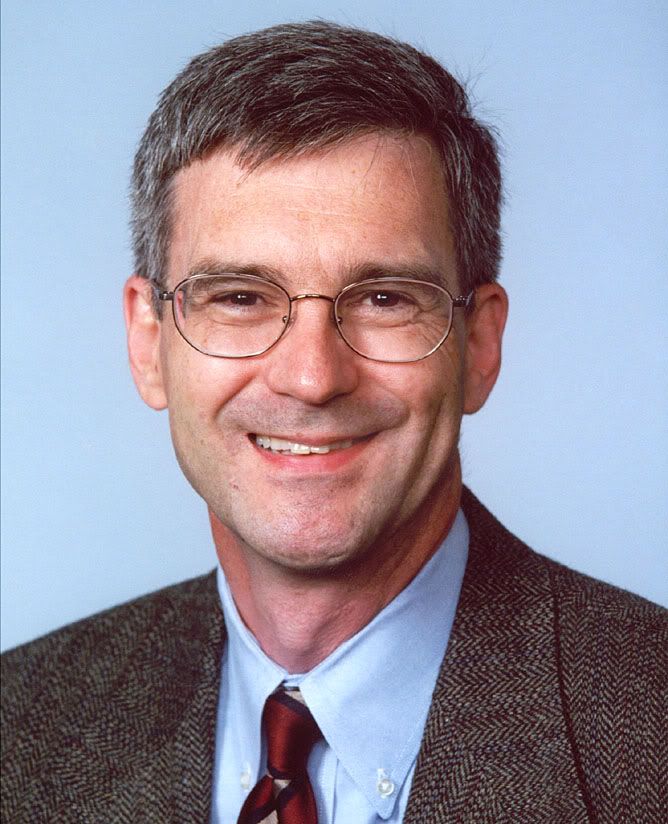 Sen. David Hann (R-Eden Prairie) faces Laurie McKendry to retain his State Senate seat. Hann is the kind of Republican who wants to reduce spending and shrink government. So it is amazing that Hann is claiming on his newest piece of literature that he's increased spending.
Someone tell the Tea Party!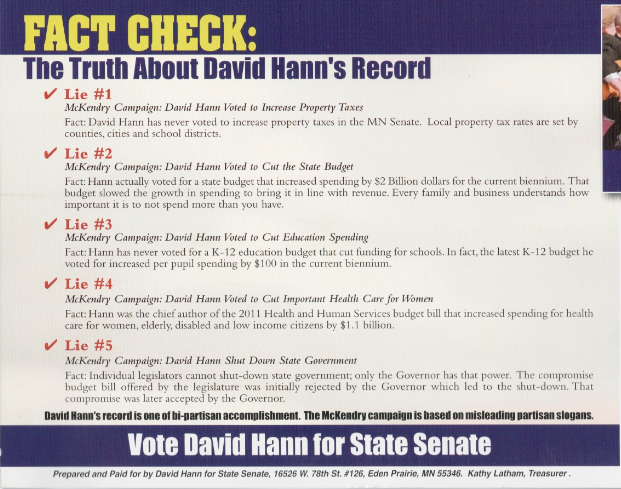 Click on image for larger version.

Fact: Hann actually voted for a state budget that increased spending by $2 Billion dollars for the current biennium…
What happened to shrinking government and reducing spending?
I'll debunk the rest of his "facts" below the fold.
In Lie #1 Hann claims he didn't raise property taxes.

Fact: David Hann has never voted to increase property taxes in the MN Senate. Local property taxes are set by counties, cities and school districts.
False: Hann voted to reduce Local Government Aid (LGA) and voted to cut education funding. Furthermore, he voted to steal money that had already been given to our schools. Republicans called this theft a shift.
The result is that local governments are forced to raise taxes and beg for money (levies) to pay for basic services like police and fire or, in the case of school districts, operating expenses.
In Lie #3 Hann claims he didn't cut education funding.

Fact: Hann has never voted for a K-12 education budget that cut funding for schools…
False: Hann voted for the theft of money already given to our schools that Republicans called a "shift."
HF130 – cut $185 million to higher education. Did you notice that sneaky ol' Sen. Hann said he never voted for cuts to K-12? Because he certainly slashed higher education.
If the education budget Hann voted for didn't cut education, why is his own school district so broke?

School districts are being forced to borrow millions of dollars just to stay afloat, meaning they're spending extra money on interest paying that money back. In Rep. Stensrud's district last year, the Eden Prairie Public School District had to borrow $15 million, costing them $300,000; the Minnetonka Public School District had to borrow over $6 million, costing them nearly $47,000; and the Hopkins Public School District had to borrow $4 million, costing them $40,000.
(PDF from the Association of Metropolitan School Districts)
In Lie #5 Hann claims he had nothing to do with shutting down the state government in the summer of 2011 and blames Gov. Dayton.

Fact: Individual legislators cannot shut-down state government; only the Governor has that power. The compromise budget bill offered by the legislature was initially rejected by the Governor which led to the shut-down…
False: Hann and the Republicans never negotiated with Gov. Dayton in good faith. They presented budgets with all kinds of far right policy changes they knew Dayton opposed. Essentially, the were playing chicken with our state government.

Let's examine a few of the items they included in the memo Gov. Dayton received at 8PM last night:

Collective bargaining reform
Cloning language
Unborn Child Protection Act
Ban on taxpayer funding of abortion
Photo ID
Prevailing wage reform
Tort reform
Redistricting bills

To even begin final negotiations Gov. Dayton would have had to agree to:

eliminate collective bargaining for teachers
ban all cloning
sign anti-abortion bills that were before the legislature this session
sign vote suppression legislation passed by the legislature
sign bill to reduce or eliminate minimum wage
agree to the Republican wet dream of tort reform
accept the Republican's redistricting plans.

All of these were deal breakers in and of themselves. Together they clearly show that the Republicans intent was never to solve our budget problems. In the end the inserted their pet projects that should never have been part of any serious negotiations about keeping the lights on in Minnesota.