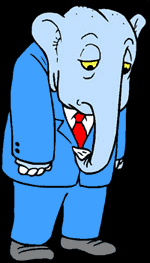 … and makes Republicans heads explode.
Republicans across Minnesota are very very frightened that when Gov. Mark Dayton signs the new budget that will include tax increases on the 2% of earners, the cost of government. This goes along with the fear that increasing taxes on the magical job creators will somehow force them to not create more jobs or something.
Yet again, their fears have nothing to do with reality:

Despite all of the right wing groups' handwringing about tax increases under Gov. Mark Dayton's budget proposal, Minnesota's price of government under the Dayton plan actually will be less over the next four years than during the previous four.

The price of government or POG measures total Minnesota state and local government taxes, fees and charges as a percentage of statewide personal income. According to the most recent POG report from Minnesota Management and Budget:
(Grand Forks Herald)
The best part is pretty much all of the conservative groups active at the State Capitol accept that the POG is an accurate reflection of reality.
Watch them try to deny since it doesn't mesh with what they want.