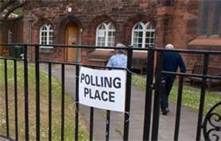 A proposal to have landlords hand out voter registration forms threatens to end American liberty. Don't take my word for it! Really, don't, because that's crazy. Take the word of former Minneapolis mayoral candidate and lonely Minneapolis Republican Cam Winton. He's the one who said it in a recent commentary in the Star Tribune. He was responding to a proposal by Minneapolis council member Jacob Frey to have landlords hand new tenants a voter registration form along with the other paperwork in hopes of encouraging more to register to vote when they change addresses.

Don't think Winton was entirely delusional to run for mayor of Minneapolis as a Republican, or at least no more so than about 30 other people who saw the open mayoral seat and the $20 filing fee and ran with the "what-the-heck" party. He actually sounded like he had a much stronger connection to reality than typical Republicans. DFLers thought he sounded reasonable if we had to have a Republican (which we didn't since there were DFLers we actually liked). And then he writes this op-ed.

Winton actually started with an economic argument, that we should want to lower the cost of building affordable housing (true) but having landlords hand out voter registration forms will raise costs and discourage building more housing. Well, sure, because there's the cost of putting a box of forms on a shelf somewhere, the cost of picking up a form, the cost of putting the form into the other documents a new renter gets, and already we've raised the landlord's costs by … well, by whatever the time is worth. 11½¢ maybe?

Maybe Winton realized the cost argument was rather silly, so he tried some philosophy.

Dating back to the Declaration of Independence, the core principle of our system of government is that we the people grant elected officials just enough power to secure our rights — no more. So when elected officials propose and enact laws premised on the notion that we are incapable of buying our own ear plugs and obtaining our own voter registration forms, it's a warning sign that the balance between individual rights and government force is out of whack.
Right, because your right to vote is threatened by … having a voter registration form handed to you when you sign your lease or move in. The ear plugs thing is from a complaint Winton had with Frey in an earlier paragraph. Frey got an ordinance passed requiring nightclubs to offer hearing protection to customers. This is bad because … hearing damage is a right? "premised on the notion that we are incapable of buying our own ear plugs", or maybe premised on the notion customers don't know how loud the noise will be or the risk to their hearing? Who knew hearing protection and voter registration forms in your rental papers were just overreaching big government?

The straight brackets are my comments:

If our elected officials really think we're so helpless, what's next? Might they require supermarket cashiers to chastise us for buying sugary drinks [his own party keeps trying to micromanage how SNAP recipients spend their money and actually do turn cashiers into enforcers, but who needs self-awareness?], require Metro Transit drivers to remind us to update our wills [how dangerous does he think mass transit is?] and require police officers to use their loudspeakers to encourage us to save for retirement? [this sarcasm from the party that keeps trying to gut Social Security] As long as landlords are already handing out pieces of paper, why not require them to hand out fliers for city-sponsored activities, such as City Council members' own town-hall meetings?
That last point is a fair one, because nothing threatens individual rights like telling people when public meetings are taking place.

Apparently unaware that "slippery slope" is the name of a logical fallacy, Winton said, "The slippery slope brings to mind a phrase attributed to various leaders over the years: 'A government big enough to give you everything you want is a government big enough to take from you everything you have.'" Well, no wonder we don't know who to attribute that quote to. Who would be dumb enough to want their name on such triteness disguised as cleverness?

Snark aside, here's a thought. If having landlords hand out voter registration forms is so awful, how about avoiding the need for it by instituting automatic voter registration? Change the registration when the voter's address changes, getting it from the post office form or the DMV. Don't like Democrats pushing to register more people? Democrats can think of other things to do too. Oregon recently passed a law to register voters automatically, and North Dakota somehow manages to have elections without registration. They can make it work but we can't?

Voluntary disclosure: I know Jacob Frey and donated to his campaign. I don't live in his ward, nor does his ward overlap the senate district where I'm DFL chair. I've spent a bunch of time doing voter registration.

Comment below fold.



Comments

From John J O Roland: Great article. I agree with every thing you said. I especially liked the new Oregon Law.