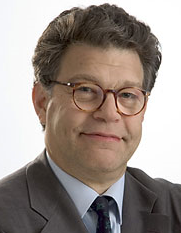 The National Journal, preeminent RWNJ magazine and website, thinks that Al Franken may not have a strong challenger when he runs for reelection in 2014. They may have a point.
The MNGOP is in disarray. They're broke and having trouble fundraising because they've done such a poor job of managing donors money (see TwoPuttTommy's Cooked Books series). Their bench is thin.
Furthermore, Ron Paul supporters took over the party in 2012 and nominated one-term legislator and abysmal failure Kurt Bills as their candidate to challenge Sen. Amy Klobuchar. But did any Minnesota Republican really stand any chance against the popular Klobuchar? Maybe Mister Bills was just a sacrificial lamb.
So the writer for the NJ talked to former Senator Snidely Whiplash Norm Coleman. The toothsome former Senator (God but I love typing that) gave a back-handed compliment about Franken being invisible which shouldn't be surprising as I can only imagine that Norm is still mighty bitter.
What Franken has actually done is work hard for Minnesota. The details are for another post as this post is about the paucity of challengers.

The list of potential, formidable candidates is short. Coleman, in an interview with National Journal, categorically said he wasn't going to run for the Senate in 2014, denying the GOP one of its best-known possible challengers. Rep. Erik Paulsen, a popular House member from the Twin Cities suburbs, telegraphed his own hesitance about jumping into the Senate race on a local radio show. Coleman touted Rep. John Kline, another swing-district Republican, but he has passed up previous statewide bids in favor of building up tenure in the House. And Rep. Michele Bachmann, who would be formidable in a primary, would be the Democrats' dream challenger, given her high unfavorables even back home. She barely won re-election in a solidly-Republican House district in 2012.

What's clear is that Minnesota Republicans are wary of jumping head first into the contest, despite the obvious opportunities against Franken. After the 2012 elections, Republican Senate candidates Shelley Moore Capito and former South Dakota Gov. Mike Rounds immediately announced their campaigns against Sens. Jay Rockefeller and Tim Johnson. By contrast, there's barely been a peep from potential Franken challengers.

Franken's ground game, fundraising, and out-of-the-limelight approach help explain why. Franken's campaign coffers are flush with cash. His job-approval rating, according to the most recent September Star-Tribune poll, is a healthy 52 percent. Sen. Amy Klobuchar, D-Minn., romped to reelection last November, winning nearly every county in the expansive state. Franken has raised nearly $4 million for 2014, with nearly $1.3 million cash on hand. That would give him a healthy head start over his opposition. (By contrast, the Republican Party of Minnesota is still struggling with $1.5 million in debt.)

Over the last election cycle, Franken's leadership PAC, Midwest Values PAC, raised $450,000 for his Senate colleagues, and Franken himself spent the election season campaigning on behalf of other Democrats, who made gains in the upper chamber. That's a sign of confidence that he's spending valuable time helping Democratic colleagues over preparing early for his own reelection. Such fundraising opens avenues for Franken to tap his colleagues for help come 2014.

Democratic strategists also point to the fact that Franken has consciously ignored the glare of the national media spotlight, preferring to speak to Minnesota media. They say he's laser-focused on talking about his record to Minnesotans and point to his sponsoring of the so-called Medical Loss Ratio rule that was passed as part of the Affordable Care Act.
(National Journal)