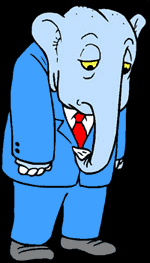 I've run across a couple of recent opinion pieces to that effect, which are linked below. It would be great if they're right (especially for most conservative voters, themselves, though they haven't the sense to realize that) but, I'll believe it when I see it, and I have to see a lot more than I do now.
What the current party shares in its collective psychosis with the party of the '60s is its yearning for martyrdom. If it's true that what hold on power the GOP still has lies in congressional districts more and more resembling outliers—a power that will die off as figuratively as the constituents of those districts die off literally—it's also true that many in the party are gripped by the death wish that thrills all martyrs and leaves them moist for self-annihilation. These Republicans have a different notion from other modern political parties of what a party is supposed to be. They don't see a party as a coalition of disparate interests having just enough in common that together everyone gets what they need, if not what they want. Republicans believe that, definitionally, a party signifies principles so unyielding that any compromise of anything at all renders the party meaningless. Nothing better indicates the theocratic personality of the party than that the very notion of coalition is corrupt, even debased, like a congregation that allows infidels in its ranks.
The result is a burgeoning self-improvement movement on the right, generating introspective articles and interviews in which Republicans ask: "What is wrong with us? How can we change? What must we do to avoid partisan extinction?"

But like many troubled people grappling with serious life issues, they aren't truly ready for change. They want to maintain the status quo while giving lip service to reform — and changing as little as possible beyond the superficial. They would do anything to project a fresher image, more attractive and effective, without confronting their deeper problems.

The deceptions involved in this process are perfectly exposed in Robert Draper's fascinating excursion among the urbane young Republicans whose frustration he skillfully reported in last Sunday's New York Times Magazine. His account is well worth reading, if only to observe these self-consciously "hip" conservatives confronting the reality of last November — and failing utterly to comprehend its meaning. Early in Draper's article, a GOP technology consultant notes that the youth vote for President Obama grew by 1.25 million in 2012 over 2008 (precisely the opposite of what most pundits and pollsters predicted). But he doesn't seem to realize that the youth gap cannot be remedied by stronger social media or updated voter files.
Call me paranoid, hopefully I am (regarding this issue), but I don't buy for a second that the GOP has given up on electoral college vote-rigging in gerrymandered blue/purple states. A highly plausible scenario, I think, is that it gets passed in lame-duck sessions in Michigan, Ohio, and Pennsylvania, after the Tea Party governors in those states are defeated in 2014. Never underestimate what scared and desperate people are capable of, especially when a lot of money and power is at stake.