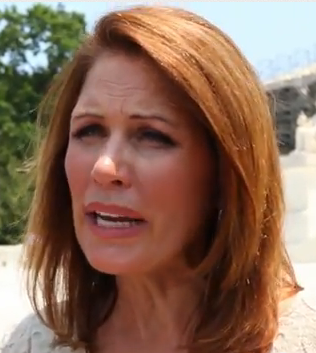 Forgets Jesus wasn't in the Old Testament!

Rep. Michele Bachmann (R-MN) is a self-professed "fool for Christ." She is a christian evangelist who regularly studies the Bible. When she gave an interview at Patrick Henry College (a right wing christianist school), she was asked if any good came from feminism. Of course she referred to the Bible to show that Jesus did more for feminism.

You would think that this would be a subject in which she wouldn't embarrass herself.

Asked if any good came from feminism, Bachmann said that realizing that "women are valuable and that women should be listened to is very important." However, she continued, "But in my opinion, that wasn't feminism, that was Jesus Christ who did that. Because Jesus Christ did more to lift up women…We didn't need the 1960s to tell us that, all you have to do is read Proverbs 31."

Nope! No! Bzzzzzt! Proverbs is in the Old Testament! Jesus is the dude that comes much later!
(Comedy Central's Indecision Forever Blog)
The gaffe-prone Representative for America's evangelical christianists can't even get her Biblical references right.