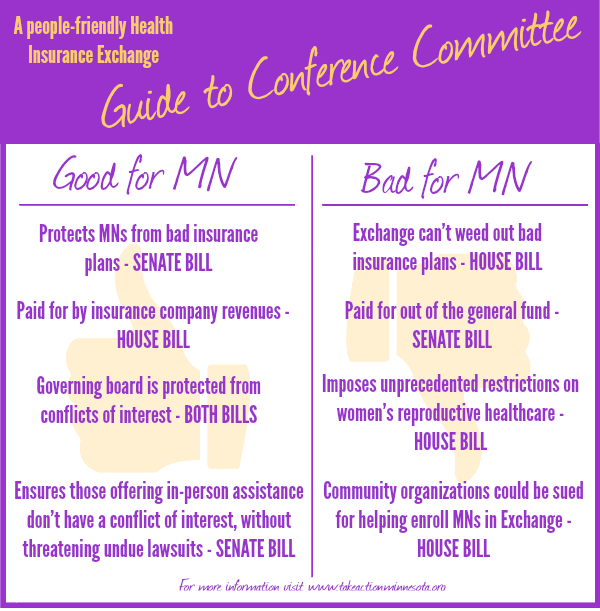 As you all probably know, Minnesota has to implement a healthcare insurance exchange or we'll be forced to use the exchange set up by Congress. I'm really glad the Republicans were too busy pushing their RWNJ dreams, amendments and other crazy **** when they controlled the legislature. Instead, the adults get to build it.

"After 12 hours of robust debate, the Minnesota Senate took a historic step today toward accomplishing honest health care reform by voting to create a Minnesota-based health insurance exchange," said Sen. Tony Lourey (DFL-South St. Paul). "We all share the priority of building a Minnesota-based exchange that works for individual consumers, families, small businesses, and the health care industry as a whole. Tonight we made significant progress toward that goal."

The bill has passed both chambers of the legislature and the two versions need to be resolved in conference committee so Gov. Mark Dayton can sign it into law. There are a few items for conference committee members to consider:

Protect Minnesotans from bad insurance plans (Senate bill does this)
Exchange paid for by insurance company revenues (in House bill)
Exchange board members cannot have conflicts of interest (both)
Prevent community organizations from getting sued for helping people enroll (Senate version).
I don't like it that the Senate version pays for the Exchange out of the general fund. Let the health insurance companies who will make money from the Exchange pay for it. With the House's funding mechanism replacing the Senate's, it seems the Senate version is the best.

Of course, The Republicans don't approve. They're fear-mongering that you won't be able to keep your doctor, it'll be expensive, blah, blah and blah:

"The Exchange will result in fewer choices, higher costs and no privacy for Minnesotans. The Exchange's un-elected seven-member board will decide winners and losers in Minnesota's health insurance industry and as a result make health care more expensive for Minnesotans.

"Minnesotans have serious questions about this legislation: Will I be able to keep my doctor? Will health care costs go up? Will my private information be protected?

"This bill does nothing to make health care more affordable, higher quality or to ensure the privacy of Minnesotans."
Too bad they're incompetent at governing and couldn't work on their own version last session.