… and alleges jobs were payback for passing bills
Minnesota Public Radio finally got around to writing about Sen. David Hann's (R-Eden Prairie) corruption. Hann was Chair of the Health and Human Services Committee. He also got himself licensed to sell health insurance. His committee oversees the health insurance industry in Minnesota.
TwoPuttTommy broke this story a week and a half before the election. MPR chose not to cover it then. Fox9 and Minnpost covered the story when it broke.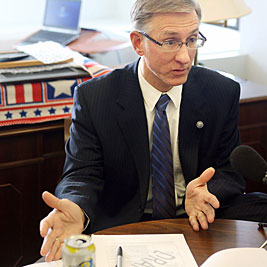 Tom Scheck did some additional research and discovered that the chair of the equivalent committee in the State House did the same thing. Rep. Steve Gottwalt (R-St. Cloud) also obtained the same license that Hann did.
But it may even be worse than we initially thought. Scheck uncovered that this was most likely reward for pushing industry-friendly bills. The firms that Gottwalt and Hann work for benefited from bills these two championed.

A Republican state representative who steered legislation through the House to drop thousands of people from the state-run MinnesotaCare program is an independent contractor for an insurance brokerage firm that lobbied for the change.

State Rep. Steve Gottwalt, R-St. Cloud, led the GOP effort to cut spending in the state's Health and Human Services budget when the Republicans controlled the Legislature. Now, both he and his Senate counterpart have business links to the insurance industry, which has some other lawmakers asking whether the arrangement violates ethics rules.
Scheck alleges that Gottwalt pushed the bill to kick 4,000 Minnesotans off of MinnCare and promptly started working for a firm that would sell them insurance.

In July, more than 4,000 Minnesotans were dropped from MinnesotaCare and given the option of enrolling in the new insurance plan, the Healthy Minnesota Contribution Program. It was Gottwalt's plan, which Gov. Mark Dayton signed into law as part of the deal that ended the state government shutdown.

But between the time the bill passed and when people lost their MinnesotaCare coverage, Gottwalt became licensed to sell insurance. State records show he sells insurance products for 11 companies. Hann received a license to sell insurance in June 2012.
Photo of Gottwalt from MPR