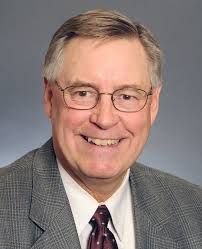 h/t politics.mn

Well, I suppose the MNGOP has to run someone for state Attorney General. If you've heard of State Sen. Scott Newman for anything, it's likely for telling constituents to get lost if they didn't support his election. You might know him for bringing us the photo ID amendment. Maybe, if your memory is really good, you recall that Newman was so enthusiastic about shutting down the state government in 2011 (yes, MNGOP, that was your doing, and DFL, don't let the voters forget), that he sued to prevent even the most crucial functions from continuing, including emptying the prisons so we wouldn't have to pay the guards. Perhaps, following up on the only real illegal voting found during the photo ID debate, where former felons voted or registered before they were eligible, you recall Newman blocked an effort to inform felons of their voting status. Apparently "election integrity" is so important to him, that he prefers people have to guess at their eligibility.

I know the Republicans have to run someone, but I hope this isn't the best they've got. Are they really about to stick themselves with an AG candidate who thinks he serves only those who supported his election when as the state's lawyer, he's supposed to serve all of us; who wanted to shut down the government so badly that even public safety had to stop, in an unusual position for an AG; who wants to stop voting by those he disagrees with so badly, that he tried to put restrictions on voting rights in the state constitution, and then he blocked a simple way to clear up the only real illegal voting? The Republicans aren't nominating an attorney general: they're nominating a saboteur.

The DFL candidate is incumbent attorney general Lori Swanson. Her first couple elections were close enough that she can't assume anything, so a bit of cash her way might not come amiss. And remember that donations to candidates for state offices are eligible for the Political Contribution Refund.

Of course, Newman does still have to win endorsement at this weekend's MNGOP convention, and maybe a reasonable candidate will still step up, or at least someone not wearing the tin foil hat of voter fraud. Oh wait, this is today's GOP. Never mind.