Tuesday was probably the most momentous day of primary season, which may seem odd for a day that had no presidential implications, but nonetheless has implications for the rest of the country, and specifically for Minnesota.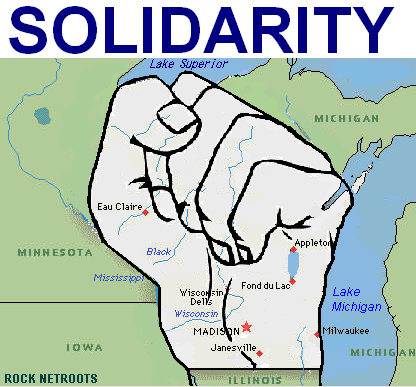 There was the recalls primary in Wisconsin, the marriage amendment in North Carolina, and a stunning primary result in Indiana. I'm guessing most of us had our eyes on the neighboring state, but that's not really the election that has useful lessons for us. The primary had to happen to pick the Democratic candidates of course, but I doubt the specific candidates really matter. We already knew the Scott Walker-led Republican assault on the right to organize had big blowback, and we're waiting to see how that ultimately plays out, but the result won't be clear. Walker has gone after women's rights too, and he has a corruption investigation hanging over his head, so a successful recall might be spun as a collection of factors and not a statement of support for workers rights. A loss of just a few points might only mean he survived because roughly 10% of voters will always oppose a recall. It's part of what makes recalls very difficult.
Actually, one possible future lesson: Walker has already spent eight of the $13 million he has raised, plus there have been independent expenditures on his behalf, and the polls have moved maybe a point or two Walker's way. Maybe that's enough, but it doesn't seem like much for such a preponderance of spending so far, and the pro-recall spending to come won't nearly match it. Maybe we'll learn there's a limit to the effectiveness of big money and TV ads. Maybe I just hope that's the case. Maybe the limit is only because of the unusual circumstances. Should would be nice though if the main thing we learn from Citizens United is that only so much money has an effect.

TonyAngelo already dug into the nitty gritty of the North Carlina polls and results so I won't repeat it all. It does seem to bear repeating, as a warning for amendment opponents here:
That many voters went into the voting booth confused or wrong about the amendment's effects.
We learn that the word "marriage" is a hang-up for many people who are OK with civil unions and gay rights in general.
The coming change of attitude thanks to generational change is just coming, and not yet arrived.

I also want to point out that the pro-discrimination margin of victory is large enough that it probably can't be overcome by that quirk of Minnesota law that counts non-votes on amendments as "no".

Here's a big lesson to take away, which I emphasize because it disproves an assumption made by many marriage supporters. I refer to the assumption the Republicans put this on the ballot just to increase their turnout. Sure, they cynically used this strategy in prior elections, but notice that's not what North Carolina's Republicans did. They put it on the primary ballot, when they expected a presidential contest without a Democratic contest, and therefore a higher proportion of voters being Republicans. That wasn't a strategy to generate turnout, but to take advantage of it. In other words, they picked the strategy most likely to let the amendment pass.

Let me pound this in: they gave up the chance to generate turnout in order to maximize the chance of passage. I don't see how to interpret this other than they really believe in the their bigotry. Are Minnesota Republicans any different? I doubt it. So I suggest we get it into our heads that they put this, and the photo ID amendment, on our ballot not to get their voters out, but because they really believe other people don't have rights. We're up against sincerity, not cynicism.

Switching to Indiana, Republican primary voters just threw out a six term US Senate incumbent in favor of an ideologue so partisan, he actually says there is too little partisanship, and "bipartisanship" should mean Democrats give in to Republican positions. Dick Lugar was so safe he didn't even have a Democratic opponent in 2006 (if anyone wondered why Howard Dean wanted a "50-state strategy", there's Exhibit A), and now the seat looks winnable, a fact which is meaningless except to us news junkies and political activists. There are some more meaningful aspects however.

The most obvious might be that we saw the template in 2010, when the Democrats had no business hanging on to the Senate but did anyway. I saw a clear line between the Senate and the down-ballot races. The Senate races got much more scrutiny from the press than the House or governors, let alone state legislatures. The result was that crazy people running for Senate got exposed to their voters in way other crazy people didn't, so a lot of voters who picked any Republican to punish Democrats for the economy made an exception when it came to the crazy Republican Senate candidate. Why didn't they make an exception in other races? They didn't know. There were some House and gubernatorial races where nutcases lost winnable races, but those were also instances where the press covered them. I fear press focus on the presidential race will let more nuts get through, but at least now we know: get the press to cover them.

We also learned that any ideas that Republicans might moderate a bit, or least err on the side of sanity, to win general elections, are wrong. No, they won't. Being a Republican is entirely about winning the primary. This is going to scare Republican office holders out of doing anything that might play well in the center or be OK with Democrats if it might bother the most extreme part of their base. You want to talk to a Democrat? You do remember Dick Lugar, don't you?

Speaking of Lugar, he had two concession statements, one a typical congratulations to my opponent and thanks for the chance to serve all these years and so on, … and then there was the second statement/ballkick:

In effect, what he has promised in this campaign is reflexive votes for a rejectionist orthodoxy and rigid opposition to the actions and proposals of the other party. His answer to the inevitable roadblocks he will encounter in Congress is merely to campaign for more Republicans who embrace the same partisan outlook. He has pledged his support to groups whose prime mission is to cleanse the Republican party of those who stray from orthodoxy as they see it.
You'd think Lugar was channeling Thomas Mann and Norman Ornstein. So sane Republicans still exist, and still sometimes hold office. That's the good news. Bad news — they don't dare speak up until after they've already lost, thus why the question for Lugar is, "You wait until NOW to say this?"
Then again, maybe it isn't craveness or fear that causes them to hold back. Maybe it's denial. I'm thinking of Lugar's attempt at false equivalency:

Similarly, most Democrats are constrained when talking about such issues as entitlement cuts, tort reform, and trade agreements. Our political system is losing its ability to even explore alternatives.
Factual fail, Senator. Most Democrats did oppose the trade agreement with Columbia, but there were three agreements voted on one right after the other. Most Democrats voted for the one with Panama, and almost all voted for the one with South Korea. So could it be Democrats are open to trade agreements, depending on the specifics — you know, how they're supposed to do it? Entitlement cuts: he refuses to notice how his party attacks Obamacare for cutting Medicare payments. Of course, those affect the private companies making money off the pointless Medicare Advantage, and Republicans don't want entitlements cut that way. Well, please pardon us our reluctance to cut the poorest people.
Here's something Lugar said that has gotten no attention, but sounds potentially very big, bolding mine:

I also knew from the races in 2010 that I was a likely target of Club for Growth, FreedomWorks and other Super Pacs dedicated to defeating at least one Republican as a purification exercise to enhance their influence over other Republican legislators.
He seems to say there is a plan not to go after Republican incumbents if they deserve a challenge, but just to pick one in order to make a point about those groups' ability to enforce ideological purity. It sounds like picking one person out of a group to be beaten, not as punishment, but to show the rest of the group you have the ability to inflict harm with impunity if they cross you. Do the movement conservative groups literally pick someone to attack, just to prove they can? Lugar seems to think so, though that was in the midst of defeat after 36 years in office. Even if there is no plan to take out just somebody, even if Mourdock didn't already hold the view Democrats should not be spoken to let alone compromised with, it's clear outside conservative groups can and will punish anyone who has anything to do with Democrats.
The lesson I take is that working with Republicans is going to get even harder. The losses of ideological puritans haven't deterred them one bit, and let's face facts, that this nihilistic party did so well in 2010 gives them good reason to think the voters won't punish them for it.
{ 0 comments }