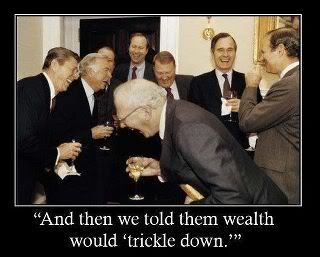 You don't have to go far, on the progressive blogosphere, to find uncomplimentary discussion of the latest incarnation of the "Ryan budget." But the thing is so awful, so egregious, that there's every reason for us all to pile on.
Rep. Paul Ryan (R-WI) released the third iteration of the GOP budget on (March 12). The document achieves balance in 10 years by maintaining the high revenue levels and health care savings that Republicans have vociferously opposed and slashing the health and safety net programs that middle and lower income Americans rely on. Top-income earners and corporations, meanwhile, would benefit from huge tax breaks.
Somebody wrote something recently, and I wish I remember where so that I could credit it properly, to the effect that one thing that the right-wing crazies have going for them is that they're so extreme that they're ridiculous. And how do you effectively deal with the ridiculous?
Not how President Obama has been dealing with it, that's for sure. On the whole, I support him. But, and it indeed pains me to type this, on the sequester, he got played for a fool and a sucker…by a bunch of conservatives. Fortunately, there are indications that the now more unified and more progressive Democratic caucus in the U.S. Senate, having seen more than enough of the President's negotiating "skills" in action, isn't going to rubber-stamp more of this nonsense, like a "Grand Bargain." Here's a good interactive website about the realities of the sequester.
I'm also adding the following, as it presents a larger-scale view. Idiots don't ever learn.
That leaves the US as the only major economy considering austerity. More to the point, we aren't considering anything given that austerity was supposed to be such a terrible idea we'd do anything to avoid it. Apparently "anything" didn't logically involve our politicians working together to do anything. Even places like Italy, where that is less possible, aren't doing anything as stupid as we are.

Nevermind. The point is that the rest of the world has learned from us, over time, that economic stimulus is the only possible way out of this situation. While they flounder to figure out just how they will make that happen in their own systems, our system has broken down completely. It makes no sense at all to anyone anywhere in the world, but there it is.
And what do I mean by "idiots?" This!
You can read what you like into today's musical selection. I just like the song.
{ 0 comments }