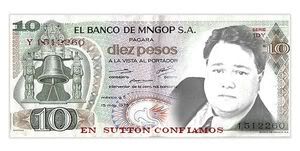 Last July we looked at the continuing fiscal mismanagement of the MN GOP – "Today's Examples Of Republicans Believe In Fiscal Accountability (Except When They Don't)" – we looked at their seemingly Enronesque accounting methods and the way the deadbeats were stiffing Counties over their recount debts for the 2010 Governor's race (among other things).
For instance, Doug Groh, auditor/treasurer of Mower County, was told on three different occasions that – literally – "the check was in the mail."
The check, of course, was not.
And we asked: "how does the GOP Faithful reward FEC Tony for his financial mismanagement – besides promoting him from the elected Treasurer to Chair?"
We answered: "By putting FEC Tony on the party payroll! $100,000 smackers worth! Good thing – for FEC Tony – that Tom Emmer covered the deadbeat RPM's recount bills to the counties!"
This was before the Federal Elections Commission smacked the MN GOP with one of their largest fines ever — $170,000.00 smackers, to be exact. FEC Tony was MN GOP Treasurer when those shenanigans occurred.
So I wasn't surprised to see this story, in today's Strib:

State GOP faces $533,000 in debt
Article by: Baird Helgeson, Star Tribune
October 27, 2011
,
,
Sutton said he made a calculated gamble to spend heavily on the 2010 elections and that it paid off politically. Republicans won control of the Legislature for the first time in a generation and then were able to block DFL Gov. Mark Dayton's proposed income tax increases.

"It was totally worth it to not raise taxes," Sutton said.(empasis added)

But it left the party deeply in debt. Sutton took the helm of the state GOP in 2009 with more than $1 million in the bank and by January of this year the party owed creditors $750,000.
(more, here)
So it's "totally worth it" to go into debt to avoid raising taxes in FEC Tony's world??!?
Remember that, the next tome some pompous jack@ss GOPer spews the "you can't spend more than in the check book" tripe they always do.
Of course, they actually believe that — YOU can't (but THEY can).
The simple fact is that GOPers believe in "fiscal accountability" — except when they don't. GOPers are always demanding "fiscal responsibility" – of OTHERS.
Reasonable people have no reason to reasonably believe anything GOPers say.
{ 0 comments }