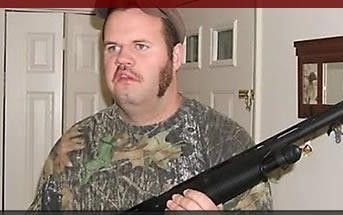 No, that headline is not an exaggeration. We have every reason to be blunt and forceful, considering what's at stake.

A new study released last week by the Center for American Progress analyzed 10 key measures of gun violence and found that Louisiana is worst among the 50 states. Included in the report is a 50-state ranking of law enforcement feloniously killed by guns: Louisiana ranks second worst in the nation behind South Dakota…


The NRA often says that "the only way to stop a bad guy with a gun is a good guy with a gun." But in states like Louisiana, no single group has done more than the NRA to put guns in the hands of bad guys. That puts the good guys with guns—like our law enforcement officers—and good guys without guns at a higher risk.

(Think Progress)
Of course the firearms freaks can explain why it isn't their fault. (For conservatives, and in fact cognitively rigid, dogmatic types in general, it never is.) The ignorant, contemptible "rationalization" that many use, deep down inside, is that since many of those states have higher percentages of racial minorities, they therefore have a larger element that is just naturally disposed to violent criminal behavior. But few dare to come right out, outside of their inner circles of the like-minded that is, and say that. Instead, one hears the same old crap about existing laws not being enforced, societal factors that have nothing to do with gun ownership…

Tell that to the families of the slain officers.

{ 2 comments }