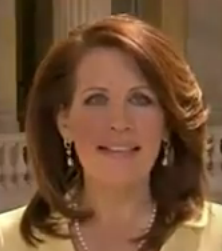 Rep. Michele Bachmann (R-MN) has a poll up for her constituents. No, not the folks from Minnesota's Sixth District. Minnesotans are not her constituents. They never have been nor ever will be.
She has a poll up for her national constituents: the evangelicals, Tea Party members and any other assorted conservatives at her campaign website … provided they make a donation.
Okay, I guess she only cares if they make a donation. Typical.

2013 Conservative Priorities Survey

As a conservative leader in the House of Representatives, I'm one of a limited number of voices fighting for your views and your concerns against President Barack Obama's destructive liberal agenda in Washington, D.C.

That's why I've created a special 2013 Conservative Priorities Survey for you to complete. From rising taxes and debt to Obamacare, soaring gas prices, and gun control — your answers are extremely important so please do not delay.

Please take a moment to complete the below survey, and afterwards make your most generous contribution to my campaign to ensure our voice is still heard loud and clear in Washington.
1.
How would you describe your ideological views?
Very Conservative
Conservative
Libertarian
Moderate
Other

2.
Thinking about the recent election, do you think our country is heading in the right direction?
Yes
No
Not Sure

3.
Under what circumstance would you consider raising the debt ceiling?
With the enactment of a balanced budget
If Congress cuts enough spending
The debt ceiling needs to be raised regardless to protect the nation's economy
Under no circumstance

Please rate the following issues by their priority to you in the new Congress:

4.
Repealing Obamacare:
Very Important
Somewhat Important
Not Important
Undecided

5.
Protecting our 2nd Amendment rights to keep and bear arms:
Very Important
Somewhat Important
Not Important
Undecided

6.
Supporting the nation of Israel as one of America's strongest allies in the War on Terror:
Very Important
Somewhat Important
Not Important
Undecided

7.
Securing our borders and rejecting amnesty for illegal aliens:
Very Important
Somewhat Important
Not Important
Undecided

8.
What issues are most important to you? (check all that apply)
Fiscal Cliff and Tax Reform
Health Care Reform
The War on Terror and National Security
Taxes
Education
Gun Control
Economy / Job Creation
Family Values
Affordable Energy

9.
Which government programs do you support cutting to pay off our national debt? (check all that apply)
Medicare
Social Security
Defense
Medicaid
Foreign Aid
Sell off some government owned land

10.
Finally, I want to hear from you- what do you want to see the 113th Congress accomplish?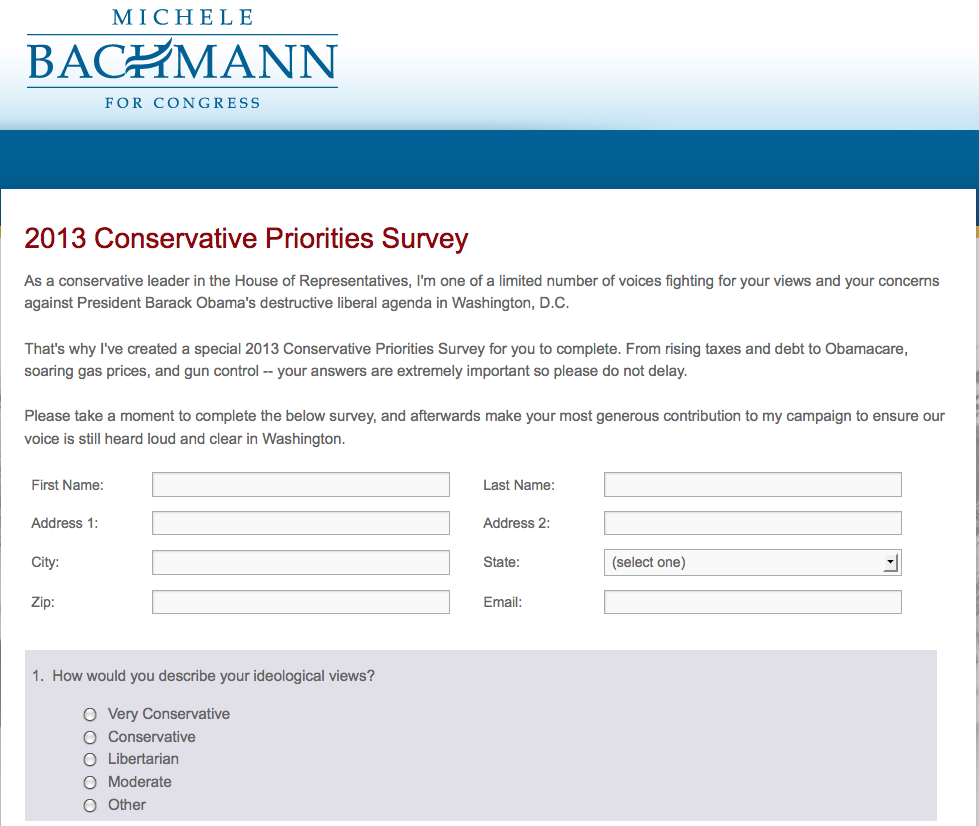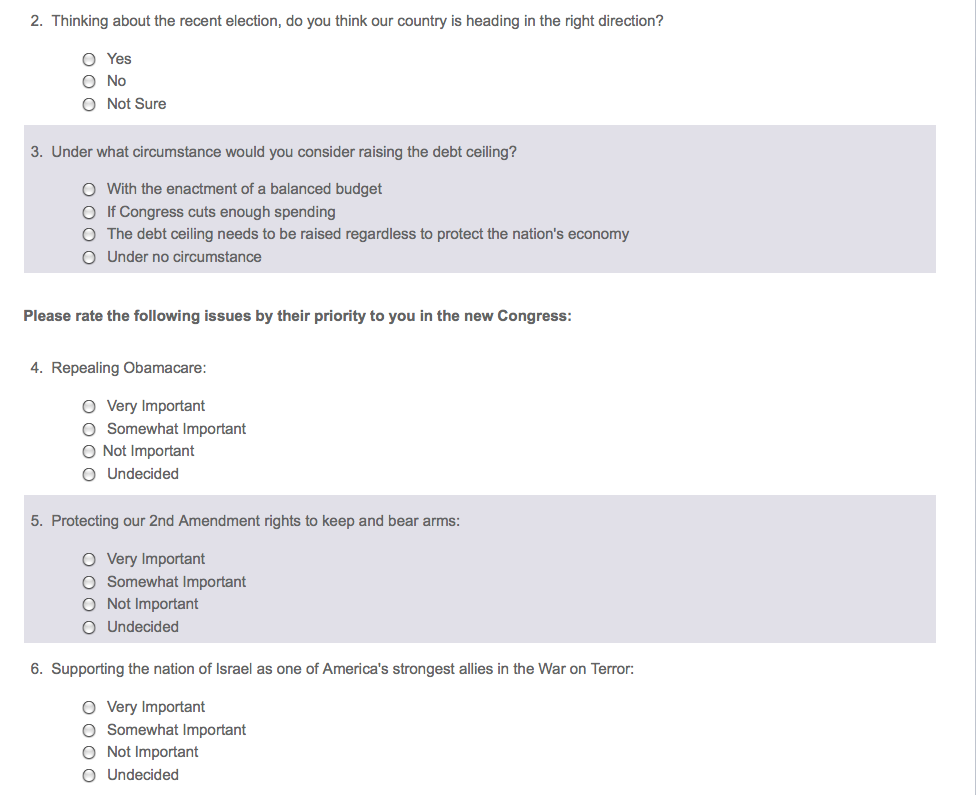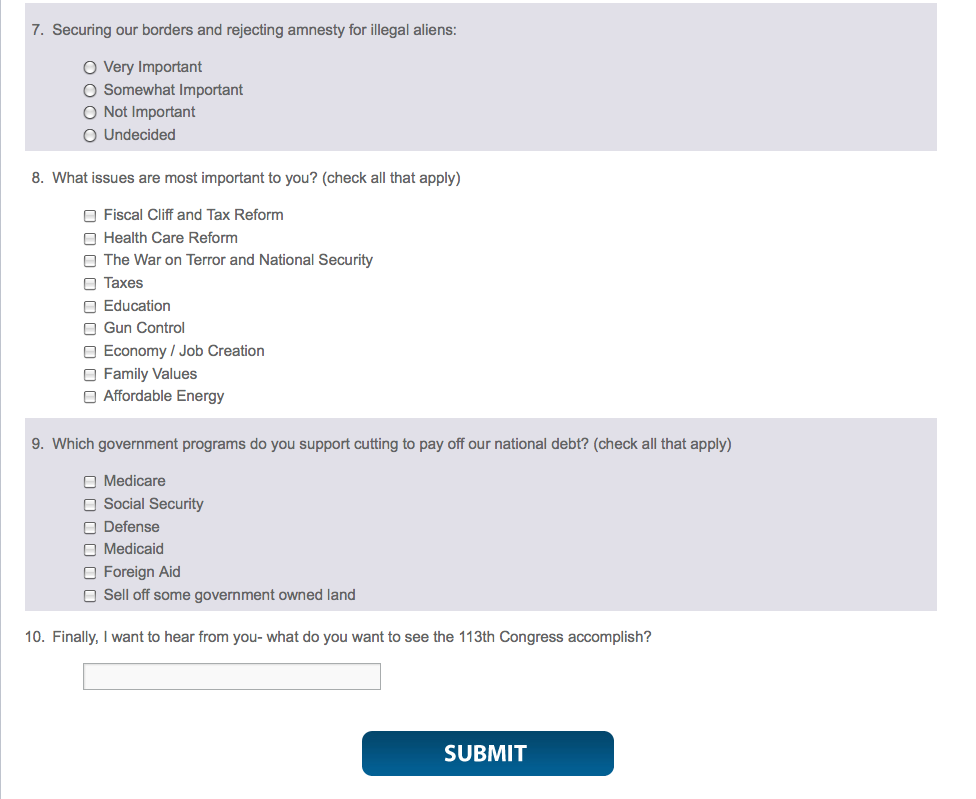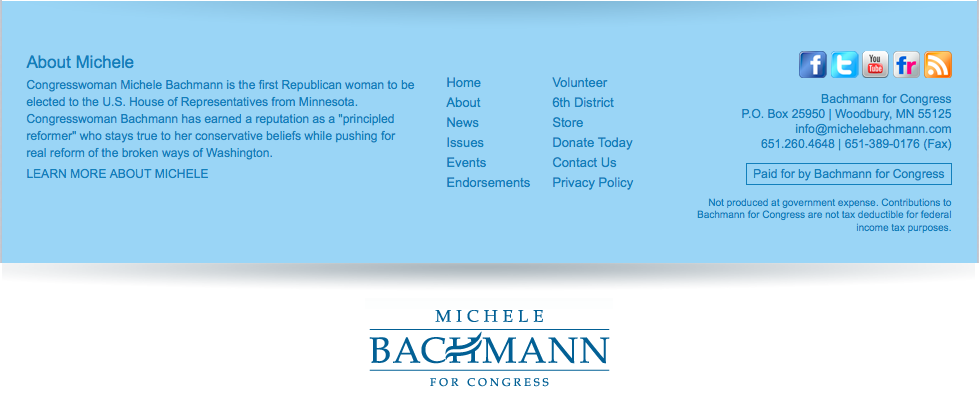 { 0 comments }