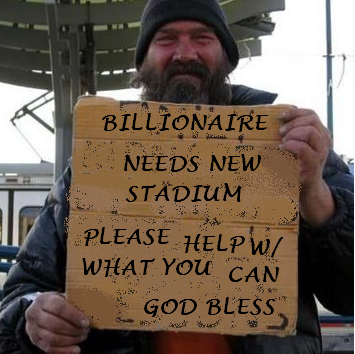 Minnesotans share of the handout to billionaire Zygi Wilf looks to be growing. Wilf threatened to move the Vikings unless he got a taxpayer-funded stadium in which he could make even more money than he already does. As sports team owners always do, he got his wish.
The agreement was that electronic pull tabs would pay a large share of the state's part of the gift to Wilf.
Unfortunately, pull tab revenues are not bringing the amount of money they were supposed to.

Revenues since pull-tabs started on Sept. 18 have fallen far short of the $100 million monthly target experts initially set for the games. Last month, disappointing revenues prompted state finance officials to cut the expected stadium cash they'd have on hand by half.

The most current data from the Minnesota Gambling Control Board show Minnesotans only played a total of $4.1 million worth of the games through the end of 2012.

By New Year's Eve, there were just 386 machines up and running, a fraction of the 15,400 electronic pull-tab devices projected to be eventually in play.

The existing machines each are grossing $180 a day – again short of the projected $225 daily take – grossing less per day than the experts' projection made when the stadium financing plan was being worked on last spring.

"The critical point is just the lack of sites," said Tom Barrett, executive director of the Minnesota Gambling Control Board, which approves the games. "And again, we have a potential pool of 2,500 sites, and as of today, we're in about 120, 118 sites.
(MPR)
{ 1 comment }