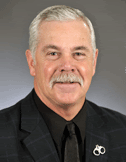 Dennis Anderson of the Minneapolis Star Tribune wrote a nice puff piece about Rep. Tony Cornish (R-Good Thunder) over the weekend. It lauded him for being a straight-talking, no-nonsense former police officer. Unsurprisingly, Anderson failed to mention any of the thunderously stupid bills he's proposed. Like arming teachers.
The Strib and Anderson ignore the fact that America faces a gun violence epidemic. For the Strib and Anderson there is nothing morally wrong with that NRA stooges like Cornish enabling the ongoing epidemic. It's just politicals. It's just a game. There is no right and wrong.
"The background-check system needs to be improved, but it's complicated and it will cost money," [Cornish] said. "If we mandate upgrades to the system, we'll have to get it right, and it's going to cost money."

Heather Martens of Protect Minnesota, a group that would like to see gun laws tightened, wants Cornish to go further.

"We just don't agree with him, and we don't think he operates in good faith," Martens said. "He believes guns are an unlimited right, no matter how many people die. We believe gun deaths can be prevented and that prevention is warranted."

Cornish disagrees. Background checks on gun sales between private parties? "No." Restrictions on modern sporting arms, or what commonly are called assault-style rifles of the kind he uses to hunt coyotes? "No." Prohibition of high-capacity magazines? "No."

"None of those will reduce crime," he said. "And none of those bills will pass. We've got the votes to block them."
Anderson just let's Cornish's assertion that background checks, military assault weapon bans and high-capacity magazine bans won't reduce crime just sit there. Cornish is lying. The statistics show otherwise.
But Anderson isn't the kind of journalist who fact-checks. He's just reporting on the back-and-forth. He's just providing the play-by-play. Anderson and his editors at the Strib will continue to enable the NRA stooges by never fact-checking the lies they tell.

Heather Martens could have provided Anderson with the fact-checking he needs. Anderson wouldn't have even needed to do any research. But either he's too lazy or doesn't care that Republicans lie and journalists always let them get away with it. And the same applies to his editors, too.